We deliver smiles and peace of mind to the users, the families and the local communities
What is Day Service?
We at Care Service operate Day Service Centers, which we hope our customers consider as 'a second home', providing a relaxing and enjoyable environment. Through physical exercises designed to help everyday mobility at home, or hobby classes to cater to each individual's taste, we run varied facilities and activities that help the users maintain and recover physical and mental functions in a friendly and communicative atmosphere.
Day Service Centers with different features
Individual bathtub type or large communal bathrooms, music therapy and dementia sessions or Sunday opening, each Day Service Center has different features and characteristics. Service users can choose a Day Service Center based on the attractiveness of facilities and services.
Encourage communication
We aim to provide services that the user wants to come back to again and again, through excellent food, bathing, functional exercises and hobby activities, filled with enjoyable conversation with contemporaries and the younger staff.
Bathing facilities at Day Service Centers
Day Service Centers run by Care Service offer various kinds of bathing facilities catering for the users' needs. We offer flexible bathing assistance service for those in the higher tiers of the Care Needs Severity Level. Please enquire at one of our Day Service Centers.
※Facilities are different at each Day Service Center.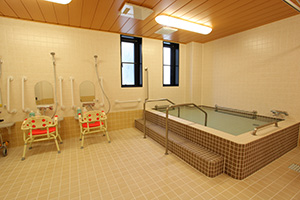 Big bath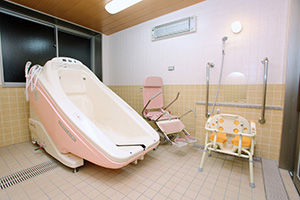 Machine bath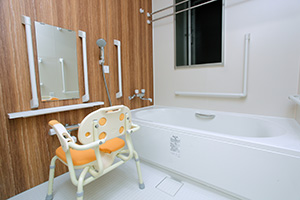 Bath